2014/2015
Configuring Critique: Seven Problematics for Arts Education in Neoliberal Times
Problématique is a French term, defined as 'the art of formulating a problem'. Drawing on the title of an essay I wrote on the practice of artist Apolonija Šušteršic, in this talk I will present seven problematics – critical, spatial, pedagogical, functional, relational, performative and transitional – as sites for debating and enacting artistic alternatives to neoliberalism. If the term 'liberal arts' refers to the seven subjects of the medieval university curriculum, which included the Classical Trivium of grammar, rhetoric and logic, and the Renaissance Quadrivium of mathematics, geometry, music and astronomy; what kind of arts education do we need for the neoliberal times in which we live?
Professor Jane Rendell is a writer whose work crosses architecture, art, feminism, history and psychoanalysis. She has developed concepts of 'critical spatial practice' (2002/6) and 'site-writing' (2007/10) through such authored books as Site-Writing (2010), Art and Architecture (2006), and The Pursuit of Pleasure (2002). Recent texts have been commissioned by artists such as Jasmina Cibic, Apollonia Šušteršic, and transparadiso, and institutions like FRAC Centre, Orléans, and Hamburger Bahnhof, Berlin. She is currently working on a new book concerning transitional spaces in architecture and psychoanalysis. She is Professor of Architecture and Art at the Bartlett, UCL. See http://www.janerendell.co.uk/
View Professor Jane Rendell's paper.

What impact are higher degree research programmes having on emerging trends and themes in contemporary art?
Contributions to the 2014 ACUADS Conference The Future of the Discipline Round Table Discussion and Closing Remarks
View Anthony Bond OAM's paper.
View Dr Rebecca Coates' paper.
---
2009/2010
Studio Teaching Project
The aim of the Studio Teaching Project was to describe the characteristics of studio-based learning in Art, Architecture and Design disciplines, and to identify examples of effective studio teaching that enhance both the student and staff experience and optimise learning outcomes.
Research involved a comprehensive review of literature, surveys of academics and Heads of School in Art, Architecture and Design disciplines in Australia, and the development of case studies of good practice including innovative approaches to studio teaching.
The Studio Teaching Toolkit presented on this website was developed as part of the project and has been created to inform and stimulate studio teaching practices.
Colleagues teaching studio in the areas of Art, Architecture and Design have been actively involved in the project by participating in surveys, providing examples of effective studio teaching or attending one of the Studio Teaching Forums.
View the Reports and the Toolkit.
Creative Arts PhD
A scoping project for quality in tertiary creative arts research training, CreativeArtsPhD provides an opportunity for vision and strategic leadership in the creative arts sector, leading to improved curricula, supervision and research outcomes, in essence future-proofing preparation for creative arts professional life.
To read the full report: ALTC_Report_Final
Dictionary of Australian Artists Online
The DAAO is an open access and dynamic authoritative reference work which provides biographical data, contextual information, commentary and links to images databases pertaining to art scholarship. Funded through two grants from The Australian Research Council, it is "the sole, freely accessible infrastructure for the creation and discovery of research into art history in Australia".
Membership is free and contact details are as follows:
Website: www.daao.org.au
Email: daao@unsw.edu.au
---
2008/2009
ACUADS 2008 Published Conference Papers
ISBN: 978-0-646-50204-5
This research publication comprises the non-peer reviewed ACUADS 2008 Published Conference Papers and is provided in PDF format.
---
2007/2008
ACUADS 2007 Published Conference Papers
ISBN: 978-0-9758360-2-6
This research publication comprises the ACUADS 2007 Published Conference Papers and is provided in PDF format.
Port Arthur Project: Re-interpreting Port Arthur Historic Site through contemporary visual art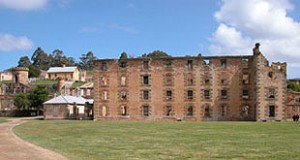 A two-day symposium, Revelation, complemented the major site-specific exhibition Port Arthur Project, which aimed to enrich public understanding and perception of Port Arthur through site-specific contemporary visual art.