2019 Conference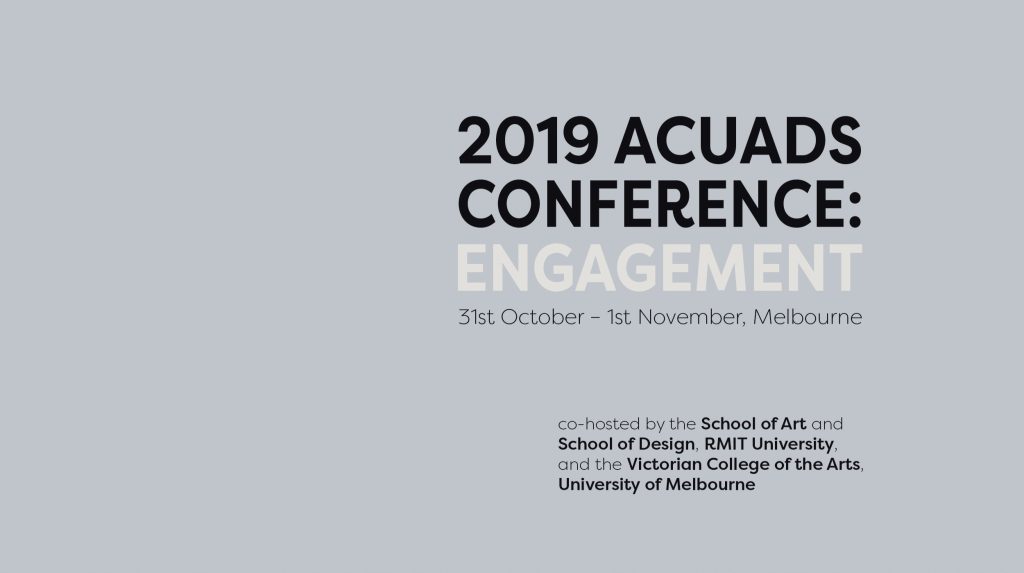 2019 ACUADS CONFERENCE: Engagement
31st October – 1st November, Melbourne
Location: VCA Southbank Campus (Day One) and Capitol Theatre and RMIT City Campus (Day Two).
Conference website: https://art.rmit.edu.au/acuads
Conference Schedule
Conference Abstracts
The 2019 ACUADS Conference focused on the meaning of engagement for contemporary art and design schools: across disciplines, nationalities and cultures; but also with industries, communities and the world at large.
'Our guiding principle was that design is neither an intellectual nor a material affair,  but simply an integral part of the stuff of life, necessary for everyone in a civilized society.'
— Walter Gropius
2019 marks the centenary of the founding of the Weimar State Bauhaus by Walter Gropius. Revolutionising models of art, design and architecture education at the time, the school drew on interdisciplinary ideals, international parameters and a deeply held social conscience. Gropius established the archetypal Modernist school by engaging across media, disciplines, cultures, classes and genders, with a deep commitment to the material, the applied and the experimental. These aspirations still ring true one hundred years later, although the models and context have changed.
The Australian Research Council's new Engagement assessment rates universities and fields of research on a low, medium, high, scale for:
Engagement: "interaction between researchers and research end-users outside of academia"
Impact: "contribution the research made to the economy, society, environment or culture, beyond the contribution to academic research"
In 2019, how do we demonstrate value without instrumentalising creativity? How do we research in order to achieve impact but also to explore the unknown? How do we educate to achieve innovation but remain connected to history? How do we sustain a critical commentary on society whilst receiving the rewards and resourcing? What can we learn from indigenous perspectives on engagement?  In the year when the Excellence in Research for Australia framework has articulated the first sector-wide measures of impact and engagement, we ask: does engagement allow new futures for art and design schools, or has engagement become a dirty word?
The conference, Engagement, was held in Melbourne, Victoria on the 31st October and 1st November. The conference was co-hosted by the School of Art and School of Design, RMIT University, and the Victorian College of the Arts, University of Melbourne.
We invited contributions from academics and postgraduate students, artists and designers. Papers, workshops and roundtable proposals considered engagement in the context of contemporary art and design practice and pedagogy including, but not limited to:
Engaging with Asia: Art & Design Schools in the Asia-Pacific region
Decolonising the Art / Design School: Indigenous perspectives
Impact & Engagement (Socially Engaged Practice)
Collections, Archives & Museums
Engaging with Industry, Engaging with Community
Employability, WIL & future graduates
HDR/ECR support & future academics
PhD models (see below)
NTRO strategy (see below)
Design Education
Contemporary Craft
Creative Arts & Health
Impact & Engagement: metrics, measures and values
NTRO: benchmarking guidelines and expectations
ARC strategies for Art & Design
KEYNOTE SPEAKERS

Pictured: Jennifer Higgie; Esther Anatolitis.
Jennifer Higgie, editor-at-large of frieze magazine
Jennifer Higgie is an Australian writer, art critic and editor-at-large of frieze magazine, based in London, UK. She is currently working on a book on women's self-portraits, titled The Mirror & the Palette, which will be published by Weidenfeld & Nicolson in 2021, and on various film scripts. She is also the author and illustrator of the children's book There's Not One; the novel Bedlam; and the editor of The Artist's Joke. She is the writer and presenter of Bow Down, the new frieze podcast about women in art history, and the editor of the annual art-historical journal frieze masters. In 2008, she was a judge of the Turner Prize; in 2017, she was on the selection committee for the British Pavilion at the Venice Biennale; and she curated the Arts Council Collection (England) exhibition 'One Day Something Happens', which toured to five galleries across the UK and Ireland between 2015-17.
Esther Anatolitis, Executive Director of NAVA
Esther Anatolitis fosters local, regional, national and international perspectives on contemporary arts issues as one of Australia's leading advocates for the arts. Her practice rigorously integrates professional and artistic modes of working to create collaborations, projects and workplaces that promote a critical reflection on practice. With a strong background in visual arts, design, architecture and media, Esther has held leadership roles across all artforms, and since 2017 has been Executive Director of NAVA. She is Deputy Chair of Contemporary Arts Precincts and has served numerous board, policy, advisory and juror roles. Esther is a former curator of Architecture+Philosophy, Digital Publics and Independent Convergence. She has presented artist workshops all over Australia and has taught into the studio program at RMIT Architecture + Urban Design, as well as in philosophy at UNSW and the University of Sydney. A writer and critic, Esther's work is regularly published and collected at estheranatolitis.net.
Conference Steering Committee
Professor Kit Wise, Dean, School of Art, RMIT University (co-convenor)
Associate Professor Kate Daw, Head, VCA Art, Victorian College of the Arts, Faculty of Fine Art and Music, The University of Melbourne  (co-convenor)
Dr David Sequeira, Director, Margaret Lawrence Gallery, Victorian College of the Arts, Faculty of Fine Arts and Music, University of Melbourne
Dr Danny Butt, Associate Director (Research), Victorian College of the Arts, Faculty of Fine Arts and Music, The University of Melbourne
Associate Professor Shane Hulbert, Associate Dean Photography, School of Art, RMIT University
Associate Professor Richard Roberts, Performance Design, Victorian College of the Arts, Faculty of Fine Arts and Music, The University of Melbourne
Dr Neal Haslem, Associate Dean, Communication Design, School of Design, RMIT University
Dr Amy Spiers, 2019 ACUADS Conference Producer, School of Art, RMIT University
---
Please direct any questions to the conference producer, Amy Spiers, using the email: acuads2019@rmit.edu.au.
Contact admin@acuads.com.au if you would like to be added to the ACUADS mailing list.