In 2019, ACUADS awarded five awards in the following categories: Innovative Teaching, Innovative Research and Lifelong Fellowship. Awardees were announced on 31 October 2019 at the Margaret Lawrence Gallery, as part of the 2019 ACUADS Conference held in Melbourne, Australia.
Awarded:
Innovative Teaching Award: Dr Kelly Hussey-Smith (RMIT)
Innovative Teaching Award: Dr Thomas Penney (RMIT)
Innovative Teaching Award: Dr Kate Warren (ANU) 
Innovative Research Award: Dr Erica Seccombe (ANU)
Lifelong Fellowship Award: Professor Clive Barstow (ECU) 
Innovative Teaching Award — Kelly Hussey-Smith, RMIT
Dr Kelly Hussey-Smith has developed a 'student as partner' model through the establishment and delivery of two key projects: Photo Futures Lab, an off-campus community site where students develop projects with community sector employers and not-for-profit agencies; and "Doing Visual Politics", a New Columbo funded multi-disciplinary study tour to Nepal that includes students from Australia, Bangladesh and Nepal. The Doing Visual Politics project is a 3-week international intensive symposium+Workshop+Festival which simultaneously immerses students, professionals and academics into a collaborative series of projects that result in publications and a public festival. The Photo Futures Lab operates as a collaborative community project exploring photography as a socially engaged practice and connecting undergraduate students with alumni, community partners and local organisations.  In a commissioned feature article, Professor Alasdair Foster identifies the project as a new model for art education through its focus on '…outward-looking collaboration, encouraging active listening, a respect for the diversity of experience and a recognition of the value of these shared connections'.
Innovative Teaching Award — Dr Thomas Penney, RMIT
Dr Thomas Penney has excelled in innovative undergraduate course design, especially in the way he fosters student confidence in technical literacy and soft skills. His strategies of blended methodologies include his development of online learning resources (video tutorial series) which have enhanced student learning; the development of "Studio Project Structure" and "Student Studio Showcases", which encourage students to take ownership and pride in their projects; his course, "How to Teach Scripting (Code/Programming) to Designers"; as well as his "Digital Cross-Reality Studios (XR Studio)" which successfully merges technical knowledge demands and the project-based soft-skilling demands for building XR. These student works were recently featured at Federation Square Beyond the Square Festival and White Night, Federation Square, Melbourne August 2019 which is a testament to their excellence. He also developed the innovative Digital Media Industry Challenge Studio, now a core feature of the program. He implemented six external briefs in 2017: Australia Post, ANZ Bank, The Reach Foundation, Parks Victoria, ABC Fact Check, and Raine and Makin; and two projects in 2018—Australian Red Cross and Cohealth—with the theme of service design for health and wellbeing.
Innovative Teaching Award — Dr Kate Warren, ANU
Dr Kate Warren has demonstrated an outstanding commitment to delivering high-quality, responsive teaching for students from first year to PhD level. She is engaged with pedagogical approaches that cross between art history and creative practice, traditional publications and practice-led research. Delivering on that engagement, which is too rare, requires curricula invention and deliberate considerations, ensuring those cross connections happen on a consistent and productive basis. Kate is the Convenor of a pivotal capstone course for Art History & Curatorship students, Curatorial Practice. Kate has questioned the course approach and established new relationships across art history and studios. Working in groups, students research and curate an exhibition using SOA&D's significant art collection housed throughout its studio disciplines. Successful delivery of this course is crucial because it is the most significant opportunity that students have to leave university with practical, real-world experience of curating an exhibition and to be excited by the curatorial premise. Kate has enhanced and continues to refine this course's potential (with high student numbers) and collaborates closely with practitioners across the School, utilising the SOA&D Gallery and with colleagues in the Centre for Digital Humanities.
Innovative Research Award — Dr Erica Seccombe, ANU
Dr Erica Seccombe has contributed ground-breaking research in the field of visual art and interdisciplinary art/science. As a visual artist, initially a 'printmaker' in practice, she is a pioneer in the field of 3D and 4D micro-X-ray computer tomography (Micro-CT). Her research is uniquely placed between the ANU School of Art & Design and the Department of Applied Mathematics. Erica's PhD GROW: experiencing Nature in the Fifth Dimension (2017) investigated time-resolved (4D) Micro-CT through immersive stereoscopic digital projection installations and 3D printing. Projecting the resulting time-lapse data stereoscopically in cinematic 3D, her final work Out of Season creates a translucent and mesmerising experience as the 'virtual' seeds come to life. Since 2013 she has been collaborating with scientists at the Natural History Museum in London to visualise key objects in their collection. Her time resolved work Metamorphosis (2016-18) won the prestigious Waterhouse Natural Science Art Prize at the South Australian Museum and has also been recently selected for the 2019 International Lumens prize. The new knowledge her research has generated has had a far-reaching impact in the sciences as her research pushes the boundaries of interdisciplinary thinking, particularly in biology. She has shared her knowledge by training numerous honours, HDR students and post-doctoral researchers from medicine, physics, palaeontology, biology, forensics and geology and the visual arts.
Lifelong Fellowship Award — Professor Clive Barstow, ECU
Professor Clive Barstow has made significant contributions to the field of art and design through ACUADS since 1992, holding executive positions between 2007–11, and as an inaugural executive member of the DDCA since 2013, as well as through contributing as an executive or institutional member on a number of Australian and International councils. Clive's life's practice as an artist and writer includes over 100 international exhibitions and over 50 related publications. He has delivered related keynote and invited lectures to over 120 international institutions in the areas of professional creative practice, educational leadership and more recently on the value of creative graduates in a post AI mechanised workforce. The thrust of his contribution to teaching has been in the area of internationalising the arts curriculum. Clive has established over 28 international articulation partnerships and transnational programs across the world. He is now leading a major project with Guangdong Baiyun University to develop a single international teaching program in the arts that takes advantage of the strengths of both Confucianist teaching methodologies of mass education in post cultural revolution China with those of western studio based learning practices deriving from the Atelier system in Europe. Clive has been committed to improving the quality and relevance of arts teaching and research over a period of 27 years both for ECU and for the broader arts communities in Australia and internationally.
Award Winners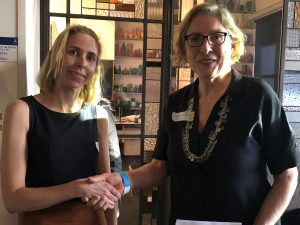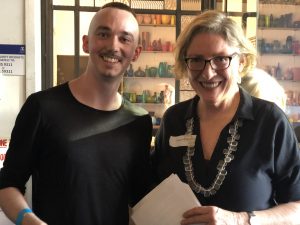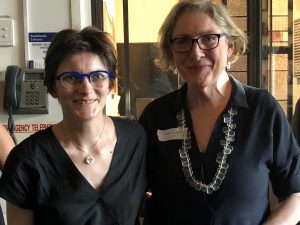 Above (L-R): Kelly Hussey-Smith and Denise Ferris; Thomas Penney and Denise Ferris
Below: Kate Warren and Denise Ferris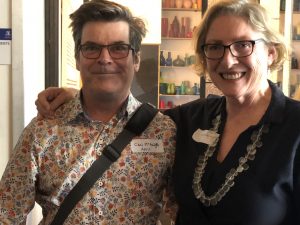 Above: Chris McAuliffe, ANU (on behalf of Erica Seccombe) and Denise Ferris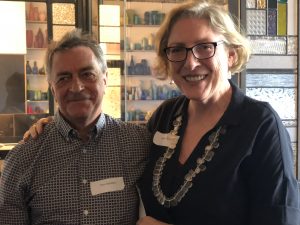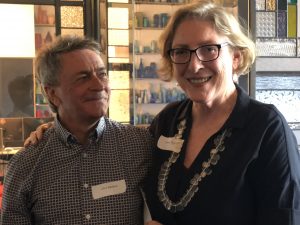 Above: Clive Barstow and Denise Ferris
Photographs by Shane Hulbert.