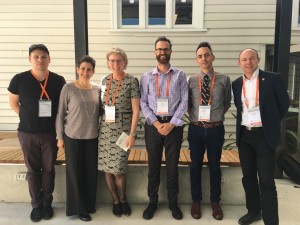 L to R: A/Prof Shane Hulbert, Prof Marie Sierra, A/Prof Denise Ferris, Dr Bruce Slatter, Charles Robb, Prof Kit Wise
ACUADS welcomes Charles Robb, Queensland University of Technology and Dr Bruce Slatter, Curtin University, to the 2016-2017 ACUADS Executive. Charles and Bruce promise to bring diverse perspectives to the Executive, drawing from their respective experiences in a smaller institution setting and location on the west coast. ACUADS is also pleased to announce our new Chair, A/Prof Denise Ferris and Deputy Chair, Prof Kit Wise.
Nominations to the Executive are called annually in tandem with the ACUADS' Conference and AGM.